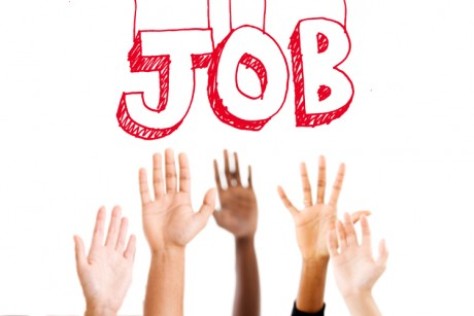 Speaking at the 11th Benson Idahosa University convocation in July, former president Olusegun Obasanjo advised that the nation has to reverse the trend of unemployment by "empowering the youth with skills and taking them off the yoke of the unemployed."
Interestingly, it was exactly a week after President Muhammadu Buhari was quoted as saying: "We will no longer allow our markets to be flooded with things we can produce ourselves. We must believe in our system. Whenever you need my intervention at anytime, please come to me." President Buhari was speaking to the Permanent Secretary, Abdulkadir Musa, and senior officials of the Federal Ministry of Industry, Trade and Investment. Also, Buhari said with its focus on job creation, his government was ready to do whatever it considers necessary to boost domestic manufacturing and industrialisation.  Buhari said: "So, we will shun all anti-development policies, and make the climate more suitable for entrepreneurs. We will create the environment for them to thrive. Generating employment was one of our key campaign promises and we will keep that promise".
While there seems to be a consensus on the need to teach Entrepreneurship in the formal schools as one of the strategies to create employment, little is done to practically and effectively achieve this. While there seems to be more emphasis and energy on the 'hardware' of infrastructure needs by entrepreneurial endeavour, the actual 'software' that will make more Nigerians willingly (my emphasis on 'actual willingness') embrace entrepreneurship with their heart and soul seems to remain unaddressed –  or is, at best, not yielding noticeable result.
Consequently, I suggest the following steps must be urgently implemented:
Firstly, public office holders must identify with fledgling business owners/entrepreneurs in their constituencies and tacitly endorse made-in-Nigeria service/product through visits to the entrepreneurs' business premises. This will serve as a form of motivation to these entrepreneurs grappling with a lot of discouraging factors and help stimulate patronage for such businesses as people will love to patronise such businesses on the strength of such endorsements. In turn, business owners will work hard not to lower quality of service in order to live up to such endorsements. I commend and recommend to other political leaders, the personal example set by the current governor of Lagos State, Akinwunmi Ambode, who has personally attended the launch of a few startups like a new school recently set up in Lekki and a hotel on the mainland. He should keep it up and extend such visits to other sectors like the printer in Shomolu, the fish farmer in Epe, the Cane village in Mende etc.
Secondly, most Nigerian formal educational institutions are presently teaching entrepreneurship without a comprehensive business opportunity handbook that adequately compiles the thousands of local and international business opportunities like it is done in most nations that have successfully got more of their citizens to start and run their own businesses. The scope of entrepreneurial education for most Nigerian undergraduates  is restricted to the knowledge of the few popular business ideas commonly executed in Nigeria and most of them are not even aware that there is a Nigerian-published comprehensive business opportunity handbook that contains thousands of business ideas, summary of how to execute each idea, contacts of credible local and international funding sources, sample business plans and business plan templates, marketing tips and so much more valuable practical business information. Consequently, most undergraduates are not sufficiently exposed to the limitless benefit of a business opportunity handbook. To reverse this trend, schools should take a cue from what's being done in Covenant University, Ota, which has integrated entrepreneurship education into its academic programme and gone an extra length to provide its students access to the mobile app of a popular business opportunity handbook. The uniqueness is that this mobile application is regularly updated with new business ideas, funding sources, business contacts etc. at no extra cost even after leaving the university.  Such a laudable programme and initiative should be extended to all schools all over the federation.
Thirdly, the media has a critical role in giving enough exposure to Nigerian entrepreneurs to serve as motivation for aspiring entrepreneurs. Most Nigerian media houses, especially those in the online, print and electronic categories are guilty of a discouraging practice of having the same advert cost regime for large corporate organisations and small/ medium scale business owners and startups. Perhaps, by no fault of the media organisations, the cost of acquiring media leverage by Nigerian startups for their goods and services is presently to the disadvantage of such category of Nigerian entrepreneurs' potential marketing gains and brand penetration. The ultimate loser is the society in terms of job creation and the media itself, which in the long run may lose patronage from struggling entrepreneurs who eventually turn out successful.
To address this concern, media organisations should provide special advertising price packages for the Nigerian small or medium business owners either through individual or trade group mutual partnership arrangement or outright discount incentives.  Influential organisations like National Broadcasting Commission (NBC), Nigerian Guild of Editors(NGE), Broadcasting Organisation of Nigeria (BON),Nigeria Union of Journalists(NUJ) and Newspapers Proprietors Association of Nigeria(NPAN) can facilitate such partnerships. Furthermore, the media should do more to extol the merits of self-employment and the small firm as a vehicle for self-fulfillment, economic rejuvenation and employment generation.
Finally, the small and medium enterprise economy relates to the large corporations and public sector sub-economies in a variety of ways. The real economic implications of the present Forex squeeze and tactical banning of 40 imported items by the Federal Government are yet to be fully understood even by most stakeholders and the government. The general theoretical assumption that these policies will automatically benefit the Nigerian entrepreneur as it is expected that more indigenous made-in-Nigeria products will be patronised will prove to be unrealistic unless the new government chooses to act differently.   The immediate beneficiaries of this policy are the smugglers and corrupt customs/immigration officers because the demand for such imported products will result in their scarcity and fuel increase in such commodities' prices which will in turn serve as incentives to the smugglers. Within a week of this policy, the unofficial price of forex in the parallel market has spiralled out of control, further increasing the pressure on the depreciating naira. Also, within a week, the price of frozen chicken (one of the 40 items removed from the import list) has surged from N750 per kilogram to N1100 per kilogram, an equivalent of approximately 50 per cent increase.
Yet these are the same imported poultry products, not those supplied by the Nigerian poultry farmer-entrepreneur. Except the government moves in immediately, this policy will not translate into economic benefits for the Nigerian entrepreneur. Government should immediately meet with the large corporations, wholesale importers, mega superstores and trade associations to track the sourcing of these 'banned' items by the big players, address their genuine fears and give incentives to large corporations that will genuinely abide by this policy by patronising local producers and suppliers of these items. The media should also help to report progress made in this regard. No doubt, the Economic and Financial Crimes Commission (EFCC) will need to investigate and possibly prosecute corporate players that may want to support smuggling or sabotage this policy.
Sunkanmi Vaughan is the author of '1000+ Practical Business ideas and Directory of Money Sources' and host of Biz Lifelines on Lagos-based Inspiration FM and Radio Continental.
Source: http://thenationonlineng.net/job-creation-beyond-lip-service/
JOB CREATION BEYOND LIP SERVICE