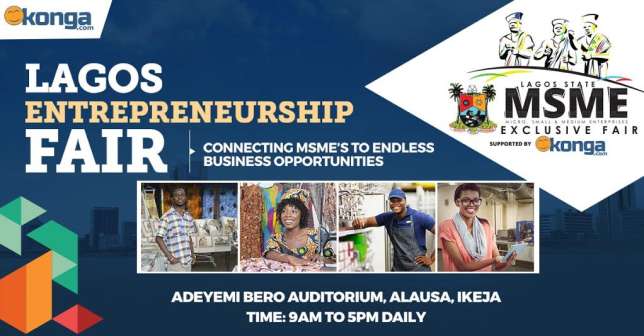 SIDE ATTRACTION 
One funny incident occurred on one of the days I was at the venue.
A middle-aged man came to our stand and was reading our flyer when he was approached and encouraged to make a purchase by one member of our team,he confidently responded that he has his own copy of "1000+ Practical Business Ideas and Directory of Money Sources " and he's on my mailing list!
While I am sure he will definitely read this post,I need to make a confession to you sir , "I  am the man in a white shirt and a black white -stripped tie who sat on the chair directly opposite you when you visited our stand!! I was just overjoyed and made speechless by your confident assertion".Thank you sir.
The intrinsic value is equally as important as the immediate gratification.
INTERACTIVE SESSIONS 
As you pursue the sales, free publicity and discounts,don't ignore the other programs planned by the fair organisers for example,there were daily interactive sessions between exhibitors and the various stakeholders like business and professional regulators,fund providers etcP.Notably,these sessions were with officials of regulators like Federal inland revenue service(FIRS),Small and Medium Enterprise Agency of Nigeria(SMEDAN),research institutes like FIIRO, National Technology Incubation Centre,Lagos State Chambers of Commerce and Industry, fund providers like Bank of Industry and frankly, it's a time well invested.
PHONE CONTACTS OF THE ORGANISERS AND GOVERNMENT OFFICIALS.
There was a day of interactive session between exhibitors and Mr  Akin Oyebode, the Executive Secretary of the newly inaugurated Lagos State Employment Security Fund.Guess what? He gave his direct phone number to all the exhibitors.Other organizations like the National Technology Incubation Centre located at 1 Oba Ogunji road, Agree, Lagos followed suit and trust me I now have their direct numbers.I will give these numbers to you on request only.
SOCIAL MEDIA GROUP.
With the advent and growing influence of the social media,the organizers proved that they are in trend as every participant had it's corporate phone contacts in a whazzap group created by the organizers on the last day of the fair.So your attendance gives you automatic membership to this exclusive group made up of  entrepreneurs,regulatory agencies and fund providers.Your membership of this kind of forum will give you a permanent access to all members of the group so that you can maintain business interaction and networking even after the fair.
CERTIFICATE AWARD.
This is a valid document and tangible evidence of your participation in this fair.You can display it in your office and attach it's photocopy to your future correspondence with the organizers or use it to enjoy special goodwill when having business dealings even with other organizations recruiting exhibitors for their own fairs.
CAUTION. 
Finally, am I assuming that all fairs are meant for you and your business? Not really.If you are an agricultural sector player,I don't think being at an auto fair will do you much benefit.It is important for you to seek out fairs you can attend at least once a quarter.Don't joke with your due diligence in order to find out that people behind the fairs are credible and you stand the chance to build a business relationship that you can leverage on even after the fair.
Although this particular exhibition had ended with a promise by the organizers to make it twice a year event and hopefully increase the level of its publicity,it has no doubt gone a long way to support Nigerian entrepreneurs willing to participate in fairs and take up the opportunities shared with you.
How do you find out the next trade fair?It is as simple as A. B. C. Just routinely check the daily newspapers/weekly magazines,vist websites or blogs with a news reporting biased to your industry, register with relevant trade and professional associations and subscribe to local and international newsletters including mine.
Do everything possible to make sure that you and your business don't miss out.After reading this post, quite frankly, it will be unfair of you to miss the next fair.
For this successful event, my special gratitude goes to the organizers,the Ministry of Commerce and Industry, Konga Online Store, Honourable Commissioner of Commerce and Industry,Permanent Secretary,Director of Commerce and other officials of the ministry, especially Mrs Bimbo Sobowale and Mrs Bashirudeen,co-exhibitors and most importantly,OUR CUSTOMERS who made our outings count.
Sunkanmi Vaughan is the host of 'Bizlifelines With Sunkanmi Vaughan' on radio and author of the most comprehensive business opportunity handbook;  '1000+ Practical Business Ideas and Directory of Money Sources
Why Should You Attend Business Fairs and Trade Exhibitions? (concluded)
Open modal