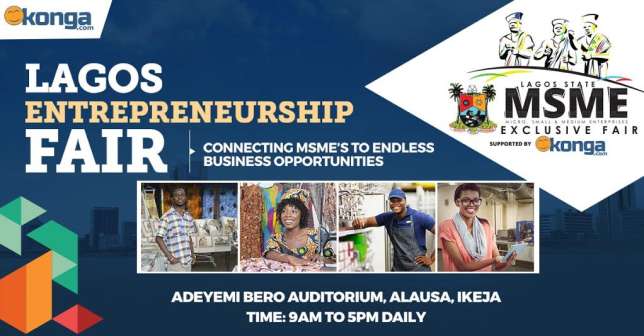 Last week Sunday,8 May,2016 marked the end of the  1st Lagos State Micro, Small, and Medium Enterprises (MSME)  fair. Trust me,it was a good thing that I and my team participated even though this is not the first time we shall be participating in business meet of such magnitude.
However, there were a few but very important information I must share with you.For a fact,what I am about to share with you will be the truth and nothing but the truth.
Before I start, let me quickly confess to you how I got to know of this fair.It was from the pages of a national newspaper!Once again confirming my advice in one of my past blog post titled "The Business Sense In Reading Newspapers"
On sighting the ad,we made the necessary contacts and before you complete saying 'Jack ',our request was approved.It was much later that we knew that one major reason that made the organisers consider our request  favorably,even at the last minute, is because we have a unique product in a class of its own: Our  "1000+ Practical Business Ideas and Directory of Money Sources " is the most comprehensive business opportunity handbook.One important lesson is that, your product or service can be the key that will unlock opportunities for you and if you ignore the quality of your products and services, you may jeopardize your opportunities as well.
Another important factor that worked in our favor is that we run a lean but smart team that we can deploy at the exhibition ground even at short notice. You may never know the efficiency of your team unless similar scenarios come your way but it's very important to work towards having a smart and lean team for greater efficiency.
So, let's return to the main reason I am sharing this blog with you: Why  Should You Attend Business Fairs and Exhibition?
It's for both immediate and intrinsic gratification.
DIRECT SALES.
Immediate value you get can be realized from your direct sales made to those attending the fairs. So it is important that you are adequately prepared to sell. Your product (including sample copies where possible), important sales promo materials, roll up banner and aesthetically appealing corner should be on display to intercept the attention of visitors to the fair ground so they can visit your stand to make purchases. Don't forget your receipt booklet as well.
FREE PUBLICITY 
Another immediate value is publicity. By the third day of the fair, we have had not less than four media outfit visiting our stand to give free unsolicited media coverage to us and we had three requesting for a one on one interview! All these at no cost.
BULK DISCOUNT PURCHASE. 
Furthermore, you will be amazed at great discount on offer at the fair ground. You can purchase materials for your corporate use. For example, I was shocked by the attractive discount on the exotic 'Ofada' rice and if I were into food pre-packaging or repackaging of the rice in smaller amounts, I will just buy large stock of these farm produce at the discounted prices, transfer to my factory for pre-packaging or value -addition thereby putting money in my pocket through the discount earned.
FREE REGISTRATION.
Now there's one amazing fact that I have equally noticed about a lot of these fairs. Most of them are absolutely free to participate! So if your excuse is about getting funds to participate, you need not worry because a simple enquiry directly from the organizers may just confirm that it's free or in worse case scenario, highly subsidized.
FACE TO FACE INTERACTION WITH  MY  READERS.
The icing on the cake and perhaps my best reward in this fair is the precious opportunity I had to meet with readers of my book and blogs. I was humbled by the encouragement from their feedback and was tremendously happy with the joy on their faces as I autographed their copies (I think henceforth, I will keep free autograph session as one permanent exercise in every exhibition we attend). I must confess, it was a great moment I will forever cherish…. (to be continued)
Sunkanmi Vaughan is the host of 'Bizlifelines With Sunkanmi Vaughan' on radio and author of the most comprehensive business opportunity handbook;  '1000+ Practical Business Ideas and Directory of Money Sources
Why Should You Attend Business Fairs and Trade Exhibitions? (Part 1)