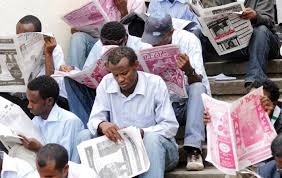 Sometime in 2003, I bought and  read a copy of The Guardian newspaper and something caught my attention. That I went ahead to make hundreds of thousand naira from the information in that single newspaper advert is an experience I will never forget in my life!
Sincerely, I can't wait to share this experience with you.
In his book,'The Art of The Strategist',William Cohen,Ph.d,Major General (retired),wrote that 'In 1977(almost 40 years ago), a young night school student in San Francisco saw a full-page advertisement in a magazine for a solid-state chronograph watch for ninety dollars. The price caught his eye because Seiko had only introduced similar watch which sold for almost $300.At ninety dollars, this young man thought the shock-resistant watch would make a terrific product for runners.'
This young man went on to cut a deal with the advertiser and started selling the watch he named "Joggers Watch" and advertised the watch in a magazine mostly read and preferred by Joggers and runners.
Subsequently, the man started a company selling unusual, hard-to- find,high-technology products through catalogs,physical and online retail stores with annual total sales exceeding $400million a year!
The man is Richard Thalheimer, owner of Sharper Image Stores.
Similarly, I found my own valuable business information from a newspaper.It was not an advertisement of a product, rather it was a service most people needed badly.Though most people were willing to pay for the service,their greatest concern were; how to make payment in dollars, where to pay and how to find authentic and credible organizations that provide that service!
I saw this advert and immediately contacted someone who is in that line of business since he had once expressed frustration of meeting up with his clients' frequent requests for that service.He was overjoyed.
What's this information that ended up putting smiles on people's faces and money in my pocket?
I saw a newspaper advert of an organization located in Victoria Island,Lagos.It is an organization named Touché Nigeria Limited and they were the accredited centre for registering Nigerian candidates who intend to sit for the American SAT/TOEFL examinations in Nigeria.
With this organization in town, prospective candidates in Nigeria could then pay their registration fee in the local currency instead of dollars, collect and submit their forms,have pre-test training on Computer-Based Test ( CBT), confirm their result etc. The Touché guys were the 'game-changer' in that business and only few people knew such organization existed!I saw the business sense in collecting money from interested candidates and registering them for these American exams through Touché. I became a middle-man between my acquittance and his clients interested in studying in America and made money in the process.
What Richard did in 1977,I repeated 26years later.
How many times have you had a great opportunity to read a newspaper and failed to seize the opportunity provided by the litany of information in the newspaper/ magazine?
You can bet,others who saw the initial watch or Touché advert and had the same idea as Thalheiner or I, but did nothing, felt the same way as you did.
I came across an information in a newspaper this week, it may be the game changer in your quest to get funding for your business.
Sunkanmi Vaughan is the host of 'Bizlifelines With Sunkanmi Vaughan' on radio and author of the most comprehensive business opportunity handbook; '1000+ Practical Business Ideas and Directory of Money Sources.'

The Business Sense in Reading Newspapers