Business Ideas, Directory of Money Sources Launched
Written by Kenechukwu Ezeonyejiaku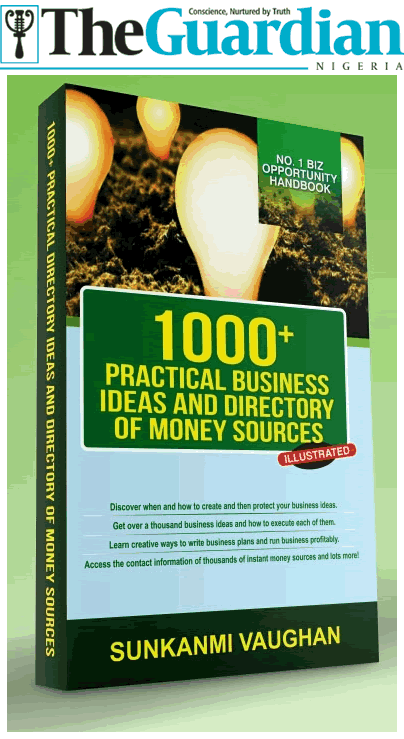 IN this era of unprecedented unemployment in the country orchestrated by lack of jobs, with millions of people chasing a few vacancies, some dying in the process, a recipe of business ideas, and Nigeria's most comprehensive business handbook designed to inform and spark an entrepreneurial spirit in young people has been published. 
  Buoyed by an interaction with his father where he was told: "People are leaving school but they seem to have been educated on how to look for job", the author, Mr. Sunkanmi Vaughan, a Pharmacist but with business instincts, said that the conundrum of spending up to six years in the university and then end up looking for job propelled him into writing what he regards as "a legacy that I am leaving for the country".
  The book, 1000+ Practical Business Ideas And Directory of Money Sources, also available in audio and mobile applications, takes an in-depth analysis of business ideas, providing guidelines on how to approach them and advice on how to succeed in a business.
  He said: "We won't play the ostrich. We as a people who actually have the capability and the patience to go through details, we have come with solutions that can solve this situation. The people who get to read this book would have crossed the most important hurdle, which is lack of information. How well you now deploy your information is entirely up to you. But I feel strongly that the essential component of our problem, which is the lack of information, this book has actually solved it".
  While reviewing the book, Dr. Oscar Odiboh who described the book as the only money source further said that it is syrup that could make millionaires out of millions of people.
  He noted that Vaughan's book reminds him of George Simmels book titled: The Philosophy of Money.
  However, Odiboh noted that Vaughan presented money in the form of ideas in his book. Stating that it was because he subscribes to the proposition of Ralph Waldo Emerson that the key to every man is his thought and could only be reformed by showing him a new idea which commands his own.
  He stated, "Though every of the 1000+ ideas in this book explains itself, Vaughan's thorough establishment of the relationship between ideas and money indicates without an unnecessary flesh of argument that if you want to reform the poor to be rich, give him a syrup of money ideas and this book is the syrup that could make millionaires out of millions of people. Therefore, if you want to be a millionaire, don't play games, buy this book".
http://barasolutions.com/mainGuardian/life-magazine/lafete/164924-1000-practical-business-ideas-directory-of-money-sources-launched
Guardian Newspaper's Report on the #1 Business Opportunity Handbook '1000+ Practical Business Ideas and Directory of Money Sources'