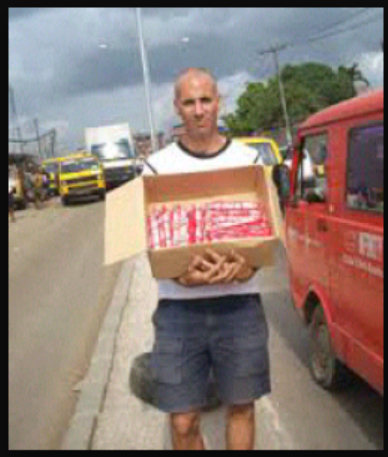 Sometime in June, 2009, an American Lawyer and Fulbright scholar was on the streets of Lagos for 5 months doing a research on hawking.
Most Lagosians were held in awe as he was seen hawking Gala sausage rolls in Ojota area of Lagos State .
He easily drew a large crowd as Lagosians laughed and wondered what could have made him to hawk gala in Lagos and on a sunny day too.This news,no doubt made the headline of most newspapers because the dramatic impact of his research is not commonly seen in most developing countries like Nigeria.
I noted four (4) impacts made by him and I will share this information with you.
1. There was an immediate increase in revenue for most newspapers that reported the news.
2. The company that produces Gala reaped massively from the publicity and  even carried it on their official website; http://www.uacnplc.com/news/uacn/2009/06172009.htm
3. His enthusiasm gave hope to the struggling young people largely involved in hawking. It helped to re-inforce their choice of hawking over crime.
4. His preliminary report proffered a solution oft-ignored by the government. Hawkers contribute to the economy of the state and when the business of hawking and street trading become structured, it would serve as revenue source to government.It's such a structured model that can be used for sales promotion and marketing research (the present system is cumbersome especially when I remember my personal experience of the difficulty I faced the last time I did a sales research using street hawkers).
His preliminary report is that "government should license hawkers and permit hawking in designated places" instead of "being harsh to hawkers and street traders".
Hawkers should have their own trade union that can be mobilized for social and economic development courses.
Research is a lot of hard work and it's necessary to take research in your business seriously.
Hence,I recommend that you do a fresh critical evaluation of your business model,price,production process,personnel overhead,cash flow etc.
I bet, the big corporations having a whole unit for Research and Development ( R & D) sure know what they are doing!
To assist you with practical steps you can take now,note the following steps;
a. Pay a visit to your competitors' business premises and find out what they're doing better than you in your line of business or do 'value engineering' by buying your competitor's product, pieces it and make a critical evaluation of all the materials.
b. Compare what you found out with your own business.You can subject it to critical evaluation by an independent party.
c. Do a small scale implementation and check out your finding.
If you have the knowledge of Analysis of variation ( ANOVA) ,T-test etc,use these statistical models for empirical and scientific analysis of the difference between your trial result and actual result from your business.Then make a business decision.
Finally,in case you are wondering who the man is. He is Sean  Alsilski. Born in the city of New York, the United States.
Alsilski's hawking business took him to Yaba, Ojuelegba, Mushin, Ojota, Mile 2, Apapa, Lagos Island and Agege;toughest areas to hawk in Lagos!
So,what's your excuse for ignoring research in your intended, new or existing business?
None, in my opinion. Sean Alsilki did it and it made impacts.Start your research today. 
Sunkanmi Vaughan is the author of the authoritative and most comprehensive business opportunity handbook '1000+ Practical Business Ideas and Directory of Money Sources'.
AMERICAN HAWKING ON LAGOS STREET: Making a Case For Research In Your Own Business.