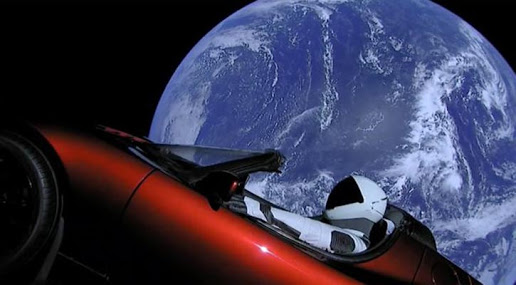 In a week the media treated us to appalling news about the herdsmen in Nigeria and India, Elon Musk sealed his place amongst the all-time greats, sorry beasts.
In India, according to Al-Jazeera in its documentary titled 'Partition of Blood', it is 'herdsmen' allegedly targeting and killing Muslims who buy cow for slaughtering, hiding under their Hindu religion that reverence cows to attack their fellow citizens while in Nigeria, it is 'herdsmen' going on reprisal killings against people who allegedly kill/steal or aided and abetted the killing of their cows, hiding under the Fulani tradition that equates the lives of cow to the lives of humans to kill their fellow citizens, In the US, Elon Musk was killing the fear of the unknown with amazing tenacity.
For the flamboyant billionaire Elon Musk, it is an outlandish, awkward yet brilliant "silly and funny" race against the future to make space travel to planet Mars cheaper in a beast mode.
With monstrous roar of engines, the most powerful rocket to leave planet earth, Falcon Heavy Jumbo rocket developed by Elon Musk, launched successfully on Tuesday, 06 February, with a sole 'passenger' on board, a mannequin named 'Starman', who rode to space inside Elon's Tesla roadster.
Elon admitted that 'Starman' will travel further than Mars because SpaceX overcooked one of the Falcon Heavy's powerful booster burns leaving the world to wonder, how did Elon Musk know so much!
From PayPal to Tesla to SpaceX and many of Elon's ambitious innovative businesses, he has maintained that his target is to learn faster than an average entrepreneur and any of his competitors.
Elon is a beast… plain and simple and I agree that he is.
I remember seeing one of his videos on YouTube where he explained how he does it and his reasoning is legit and very sound.
Elon, how do you accomplish so much so fast?
In response, Elon said something like this…
Most people work 40 hours a week, I work 100 hours a week. So what takes a regular person 1 year, it takes me roughly 4 months to complete. Simply put, I am just working more and learning at a much faster rate than my competition.
Beast!
In short, what you focus on expands. Herdsmen or Elon Musk?
Elon is a beast, I repeat!
Sunkanmi Vaughan is the host of 'Bizlifelines With Sunkanmi Vaughan' on radio and author of the most comprehensive business opportunity handbook;  '1000+ Practical Business Ideas and Directory of Money Sources'
Who Is The Real Beast: Elon Musk or The Herdsmen?